When numbers are deceiving
Your goal is the same as many others: you want to attract more visitors to your website, and ultimately convert them into customers.
How do you make this happen?
According to Hubspot's newest State of Inbound Marketing report, which was released today, 73% of companies use inbound marketing (such as blog posts) as their primary marketing strategy.
Hubspot surveyed more than 4500 people from more than 132 countries to learn more about this strategy and other marketing issues. Most of the respondents are from small and mid-sized companies, and half generate less than $1 million per year. These respondents work in marketing agencies, IT services, education, software, consumer products, media and publishing, industrial and manufacturing, healthcare and medical, ecommerce, and many other industries.
How do you know what mix of marketing strategies is best for you?
The answer, not surprisingly, is "it depends." You always have to look at the numbers, and determine what is best for your industry and demographics.
Let's say you just launched a new ad campaign to support your inbound marketing. The design is eye-catching, and you gave it your best keywords. You wait 24 hours, then look at how well the ads are doing. The ad clicks are higher than ever before!
Before you run to your boss with the good news, however, take a moment to consider what these numbers might mean.
Research from the State of Inbound Marketing Report suggests that we should be cautious when pulling information from digital ad clicks: 34% of people who click an ad did so by mistake. Worse, an additional 15% of ad-clickers feel that the ad "tricked me." That means that many of those clicks were made by people who did NOT want to be on that landing page, and promptly left.
The good news is that 40% of people clicking on an ad were actually interested in it (strong potential customers), and 21% clicked because it was a search result (potential customers). 13% clicked because the ad was creative or visually appealing, and 7% clicked because it was compelling or provocative.
Simply stated, only 61% of the people who clicked the ad are at all likely to add to your revenue. That is assuming, of course, that these average numbers are accurate for your business—an average number nearly always has outliers!
How can you tell if these general numbers are the case for you and your business? Maybe you're the lucky exception!
Panicked, you check your marketing dashboard (or sometimes just Google Analytics) for your website. Although the number of sessions looks high, your bounce rate is over 85% on the landing page for the ad, which does not bode well for your ad campaign.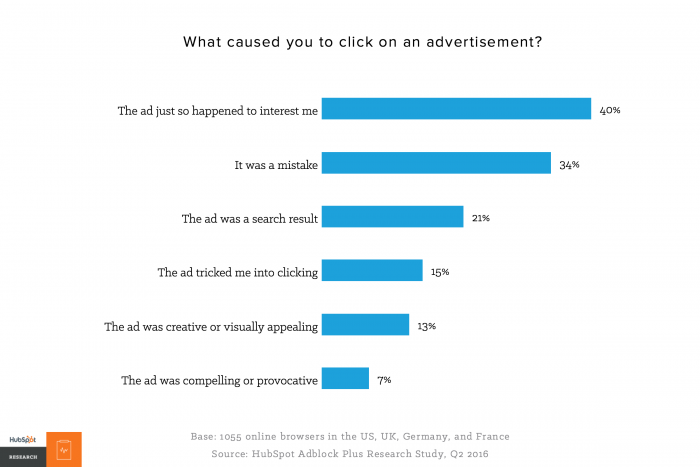 Take a deep breath.
There are a lot of reasons for a high bounce rate, which is usually defined as the number of people who arrive at a page and don't click anything before leaving. Some of the 21% of people who clicked on your ad did so because it showed up in their search results might have simply found the information they were looking for, which could be considered a success. Those who found that ad itself interesting, rather than the product (people who found the ad compelling, provocative, creative, or visually appealing) might also fall into this category.
The 34% who clicked by mistake don't belong there in the first place, and are a complete waste of your ad budget.
Using the average numbers, you should expect about 60% of people clicking on your ad to bounce away without digging more deeply into your website. This means that for an 85% bounce rate, more than 60% of strong potential customers did not interact with your website in any meaningful way.
Clearly, bringing people to your website is only part of the battle. To increase the number of visitors who stay on your site long enough to learn about you, you have to make sure your site is meeting their needs. Easy-to-find information, interesting content, and, of course, a good product are all important if you want to watch your numbers increase.
Save
Save
---