An overview of Reddit advertising
Talking about Reddit strikes fear into the hearts of many advertisers, but prompts a very different reaction among its users, who enjoy the freedoms and interactions that exemplify the community.
The "wild west of the internet," as Reddit is still sometimes known, cannot be captured by a blog post. This is not "everything you need to know about advertising on Reddit," but rather, "some useful pieces of information that might help inform your social media advertising strategy."
Reddit underwent a major overhaul in 2018, including updates to their advertising experience, both for advertisers and users. Reddit has made the advertising tools more user-friendly, and definitely prettier.
Reddit from a marketing perspective
Reddit is where people go to engage with topics that interest them. It is extremely popular, and currently ranks #14 for global internet engagement.
The true power of reddit, however, is its subreddit communities. With more than 150,000 active communities, there is a niche for almost every interest. This can be a marketing gold mine if you're targeting niches like Machine Learning (r/MachineLearning, 748,000 users) or Computer Science Career Questions (r/cscareerquestions, 274,000 members). Not only are these subreddits where you will find people potentially interested in your offerings, but you reach them when they are actively thinking about that topic.
If that sounds too good to be true, read on for the complicating variables.
Upvotes, downvotes, and karma
Quick overview for those not familiar with the platform: users determine what posts show at the top of subreddit pages by upvoting or downvoting posts. When a post gets upvoted, the person posting it gains karma. When it gets downvoted, the poster loses karma. This makes karma a metric of trust and value on the platform.
Although every subreddit is governed by slightly different standards, Reddit users have the reputation of being anti-advertising. This is partially because reddit is based on crowd control of top posts, with its system of upvotes and downvotes for interesting content. Ads can also be upvoted or downvoted, though they seem to place higher on a page than their score would indicate.
This seems like a marketer's nightmare, but it isn't. Ads DO get upvoted, as long as they are ads that interest those who see them. Here are some examples from ads currently live on Reddit: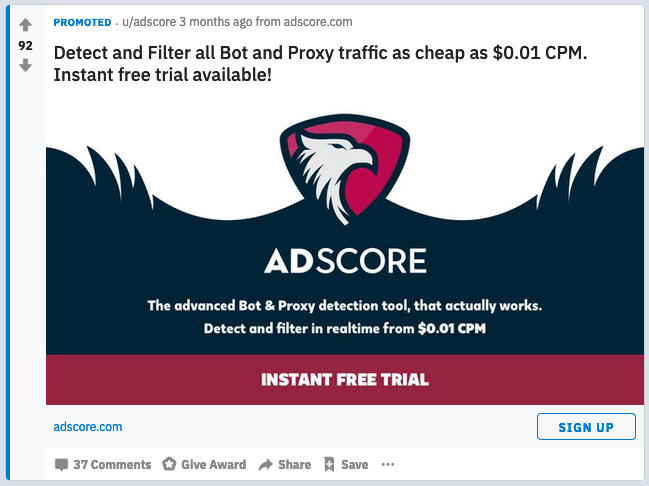 This ad (above) shows up on the r/coding subreddit, and has more than 90 upvotes. The brand interacts with the audience, answering questions about the product and genuinely trying to help them.
---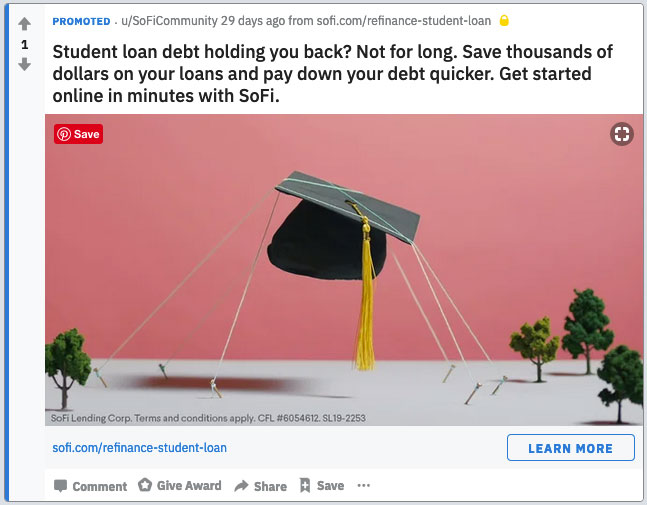 However, an ad for refinancing student loans (above), that is present across many subreddits, has neither upvotes nor comments or interaction—and is placed significantly lower on the page.
---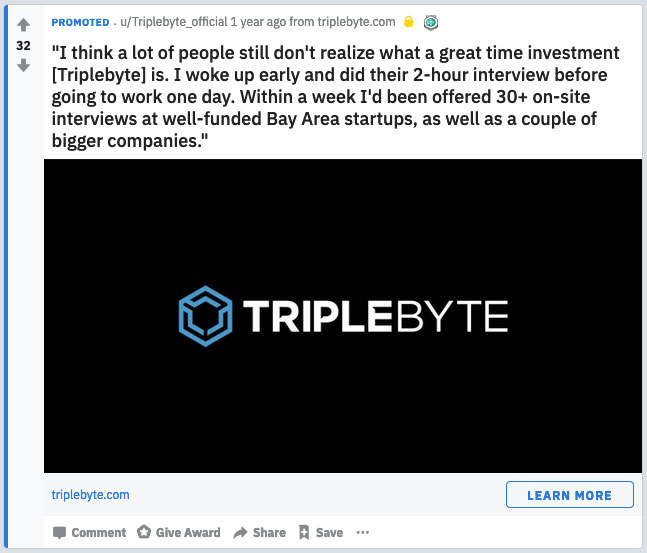 This ad (above), shown on several high-tech subreddits including r/cscareerquestions and r/coding also has numerous upvotes, though little interaction.
---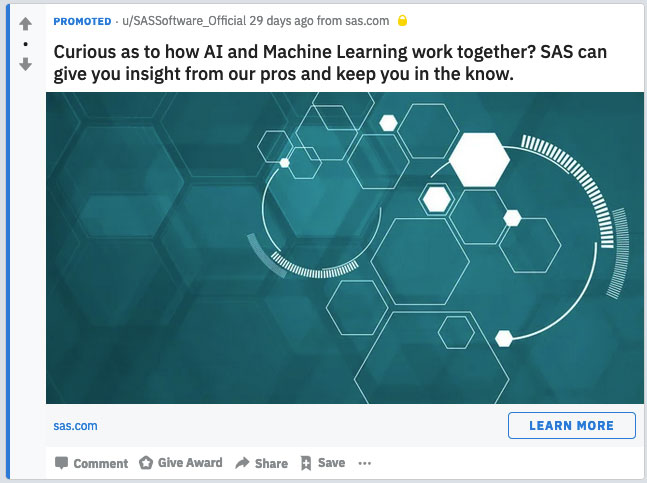 Interestingly, a SAS ad about machine learning (above) in r/MachineLearning does not appear to be generating discussion or interest.
---
The ad platform
These are all ads in larger subreddits though. Smaller subreddits don't have the same advertising options; limiting the "niche reach" that Reddit allows. For example, there's no option to advertise in r/AutonomousVehicles (454 members), but you can advertise on r/techsupportanimals (9,400 members).
Reddit is also less expensive to advertise on than many of its competitors, which is normal for a relative newcomer to the advertising space. Some advertisers are finding that the cost-per-click rates are 50% lower than other channels. Even with the redesign, however, many advertisers did not see an increase in ad effectiveness.
Reddit demographics
If this sounds depressing, don't be discouraged—if your niche is on Reddit, it's worth considering. TechJunkie compiled some research, and found few surprises for those familiar with the platform. More than 2/3 of Reddit users in the United States are male, and users also skew young, with 64% between 18 and 29 years old, and 29% between 30 and 49. In 2016, 4% of US adults used Reddit spending an average of about 15 minutes a day on the platform.
Reddit advertising strategies
There are few shortcuts for Reddit advertisers, and a successful Reddit ad campaign is going to be a time investment. "Tips" for Reddit advertisers pretty much always include engaging with the communities before starting advertisements. This means posting content that isn't your own, becoming an active commenter, and replying to other people on your subreddits of choice.
Even once you've earned a subreddit's trust, Reddit users are notoriously fickle, and your best bet is to make sure you advertise only products/services that they will be interested in. Which means you'll probably have more luck posting about job advice to r/cscareerquestions than you will posting about bank loans to r/coding.
There's a cost and a chance for a good payout. If you'd like some help figuring out if Reddit should be part of your ad strategy, we'd love to talk!
---